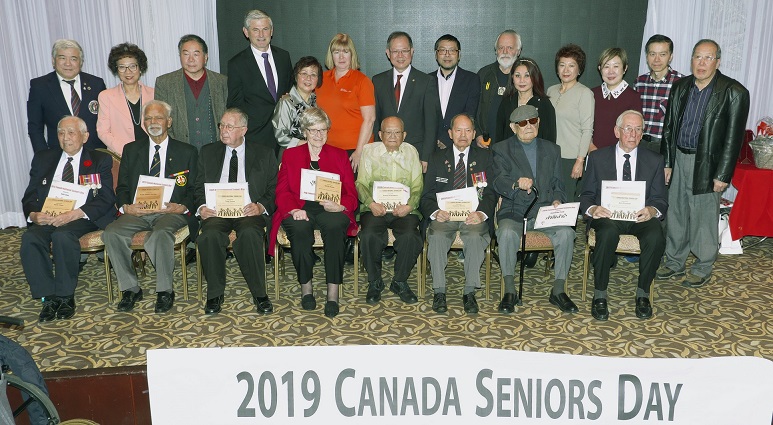 The BC Cultural Diversity Association organized and presented the 2019 Seniors Day celebration on October 16, 2019 from 11pm to 2:30pm at the Floata Seafood Restaurant in Vancouver, BC.
The National Seniors Day Celebration features recognition with appreciation awards of notable seniors from diverse cultural backgrounds who made a difference to their communities. This event were sponsored by the Chinese Seniors Association of Canada, Vancouver Singapore Club, Scandinavian Community Centre, Canadian Race Relations Foundation, Horseshoe Press, G&F Financial Group, Eclipse Awards and Chinese Canadian Military Museum Society.
400 people attended this event. Greeting messages from the Premier of BC, Leader of the Official Opposition, Mayors of the Cities Burnaby, Richmond and North Vancouver were received. Ten seniors were honoured with plaques and certificates, namely: Neill Chan, Tommy C.G. Wong, Tomas Avendano, Troy Dalen, Nils Kristian Frostad (Kris), John Halani, Roshan Kochhar, Kupp Swami (Sam) Naicker MBE, Gerda Suess and Cheung Man Tsang.
Participants enjoyed multicultural lunch and entertainment. Chinese, Korean, Indian and Indigenous food were served, and dancers from the Vietnamese Canadian, Chinese Canadian, Indigenous, Scandinavian and Filipino Canadian communities performed.
So many supporters donated that every attendees got at least two prizes.